Discover more from Goosepoop
Join 2000+ readers getting all the best data on Michigan HS Sports
Over 2,000 subscribers
Week 5 2023 MHSAA Football Preview
Undefeated teams projected to lose, potential playoff rematches, & more
Hi Everyone -
Goosepoop #74 is here!
Here's the lineup for today's note:
We're also closing in on 2,000 subscribers.
Who will be lucky number 2,000?
I don't have a gift for you…. but I will email you and let you know. So if you're reading this, subscribe.
It just might be you.
---
I put out all of the below projections for free.
But, these aren't the *ONLY* projections our computer model is making….
…. we actually have a projection for *EVERY* game in the State this weekend.
We also have live playoff odds, projected first round opponents, and week-to-week trend analysis for every team in the State
Interested?
All you have to do is subscribe to Goosepoop Pro
It's $15/month, and you can unsubscribe very easily by clicking 'Manage Subscription' in the lower left-hand corner of our website
---
Week 4 Computer Rankings
We dropped Week 4 computer rankings on all of our socials Monday night
If you click the below post, you'll be able to swipe through the top 10 in each division (including both 8-man divisions)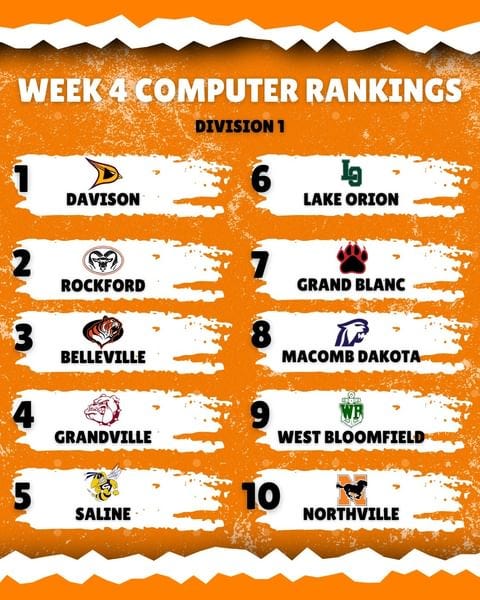 Ok, so you read the rankings. But you're still curious how your team's ranking changed from last week…..
You're in luck.
We post each team's week-over-week change on Goosepoop Pro (pic below):
Sign up for Goosepoop Pro to see every team's week-to-week change!
---
Week 5 Feature Games
Forest Hills Central (4-0) vs. Byron Center (4-0)
A big one in the OK White. Both teams are undefeated, and both teams are rated in #3 in their divisions (FHC is #3 in D3, BC is #3 in D2). Despite all of this, the computer still thinks this game is simply a battle for #2 in the Conference: we have EGR rated as a 1 point favorite over FHC and a 2 point favorite over BC.
De La Salle (2-2) vs. Detroit Catholic Central (3-1)
If this were pre-2023, you would say this game is the battle for the CHSL championship. Now that we have the Toledo schools involved, that's not the case…. but winner still gets in-state bragging rights. DCC's computer rating is certainly on the rise after last week: their win over Orchard Lake has vaulted them 13 spots in the D1 rankings. Can they keep the momentum going?
Chippewa Valley (2-2) vs. Macomb Dakota (4-0)
A classic rivalry game between two schools who share a school district. Dakota has won the last four… will that continue? Regardless of who wins, we think there's a high likelihood that these two rematch in round 1 of the playoffs: our computer assigns that scenario a 38% chance.
Hudsonville (4-0) vs. Grandville (3-1)
An almost identical matchup to the Chip Valley / Dakota game. These schools don't share a district, but they do share a border. They also have the second-highest likelihood of rematching in round 1: at 81% odds, we think that scenario almost certainly occurs.
Zeeland East (4-0) vs. Zeeland West (4-0)
Roll it again! Our 5th and final game is the 3rd straight rivalry game. Like Dakota & Chip Valley, these two schools DO share a district…. they even share a STADIUM. However, unlike the previous two, we actually think these two are not doomed to rematch in R1: we assign that scenario only a 16% chance (however…. as for round 2, that's a different story).
---
Quick question before you scroll on:
Are you the coach of a high school, middle school, or club sports team?
Great - because I made something for you.
I asked 100 coaches how they fundraise for their teams each year.
Some of the results were …… surprising
Check out my top 5 takeaways from the data at the link below:
(It's free)
---
Someone has to lose
There are SEVEN games between undefeated teams this week (two of which I already covered above). Here's the other FIVE:
West Catholic vs. Spring Lake
A bit of a head-scratcher here: WC beat Coopersville by 3, while Spring Lake beat them by 1. So you'd expect the spread to be MUCH closer.
Manistee vs. Whitehall
Michigan Collegiate vs. Detroit Edison
Hart vs. North Muskegon
Fun fact: Hart is 4-0 for the first time since Kennedy was President. Well done!
Grass Lake vs. Napoleon
The Pirates are on their way to back-to-back undefeated regular seasons
---
Undefeated No More?
Outside of our SEVEN undefeated matchups, we also have SEVEN more game where undefeated teams are projected to lose:
Lapeer (4-0) vs. Saginaw Heritage (2-2)
White Pigeon (4-0) vs. Centreville (2-2)
Montrose (4-0) vs. Chesaning (3-1)
Hudsonville (4-0) vs. Grandville (3-1)
We already projected this one up above, but I'm including it here to be complete
Adrian (4-0) vs. Chelsea (3-1)
Allegan (4-0) vs. South Haven (2-2)
Petersburg-Summerfield (4-0) vs. Erie Mason (1-3)
The model got burned by Petersburg-Summerfield last week. Will it happen again? This isn't an out of state matchup, so no excuses for it this time!
---
'Bubble' Games
These two games are between teams who are on the bubble for the playoffs….. thus, they are essentially playoff games. Win and you're in. Lose and you're probably out.
Midland (3-1) vs. Traverse City Central (1-3)
Charlotte (3-1) vs. Ionia (2-2)
---
*NOT* 1-and-done
These SIX games have greater than 35% chances of rematching in Round 1 of the Playoffs.
Harbor Beach (3-1) vs. Marlette (3-1)
Woah….. the single highest round 1 rematch probability is this game. Keep me honest: someone remind me if this rematch *DOES NOT* end up happening.
Grandville (3-1) vs. Hudsonville (4-0)
We've beat this one to death here, but just so you have it:
Benzie Central (2-2) vs. Charlevoix (3-1)
Benzie & Charlevoix played first round last year, with Benzie scoring a nice upset. We predict they get two cracks at each other this year.
Chippewa Valley (2-2) vs. Macomb Dakota (4-0)
Again, we've beat this one to death. But just so you have it.
Chelsea (3-1) vs. Adrian (4-0)
My final repeat on here!
Cadillac (3-1) vs. Gaylord (4-0)
---
Coin Flip
Troy (3-1) vs. North Farmington (1-3)
Detroit MLK (1-3) vs. Detroit East English (4-0)
Do you believe this projection? I don't, but it's what our computer is spitting out. Remember, it has difficulties with out of state games. Half of MLK's games have been out of state thus far, so perhaps that's a factor here.
---
Don't See Your Team's Game Projected?
Don't sweat it!
We've got every.single.game projected on Goosepoop Pro.
Check it out for only $15 / month right here
(updated weekly)
---
MHSFCA Coaches Poll
Last thing here!
The MHSFCA Coach's Poll has been updated for Week 4
Check out how the State's Coaches have teams ranked right here
---
That's all for today guys!
Thanks again for reading my note. If you've yet to subscribe, please do so below.
It's Free!